Collagen Beauty Booster With Kollagen Intensive Cream
Reduced Appearance Of Wrinkles By Up To 354%
Rediscover the natural beauty of youthful-looking skin with Kollagen Intensiv® – an anti-wrinkle cream with retinol that's clinically proven to reduce the appearance of wrinkles by up to 354%!
This nourishing anti-aging cream and daily moisturizer contains patented peptides that stimulate natural collagen.
That helps keep you skin looking younger – naturally – without expensive collagen injections that can run $750-$2,800+ per year. And you won't need multiple expensive creams for day and night care.
Simply apply this luxurious anti-aging formula twice daily, after morning and evening cleansing, and you're done!
Increase your skin's natural production of collagen

Reduce the appearance of even the deepest lines and wrinkles

Firm and tone the skin for a more youthful appearance

Moisturize and hydrate the skin

Help repair damage including age spots and sun damage
THE BENEFITS OF KOLLAGEN INTENSIV®
Boost Your Natural Moisturizing Factor (NMF)
Includes a number of highly effective NMFs, which lock in moisture to keep your skin looking healthy and youthful..
Reduces Photoaging Caused By Sun Damage
Include Various ingredients to protect against UV damage as well as repair skin from pre-existing photoaging.
Protects Against Wrinkles Caused by Glycation
Helps prevent the cross-linking of proteins and production of interleukins to help skin retain its elasticity and contours.
Reduces dark Under Eye Circle, Puffiness & Crows Feet
Helps take years off your eyes by friming and plumping skin to reduce crow's feet, dark circles, and puffiness.
"Anti-Aging" Breakthrough In Skin Repair Now Clinically Proven To Accelerate Your NATURAL Collagen Production. Helps To Visibly Reduce Signs Of Aging Like Wrinkles For A More youthful Appearance, Saving You $1000's On Unnecessary Collagen Injections!
Rediscover the natural beauty of youthful looking skin with Kollagen Intensiv®!
This nourishing "anti-aging" cream and daily moisturizer works with your body's natural ability to accelerate your skin's renewal process on the cellular level by stimulating the natural production of collagen…
… Keeping your skin looking youthful, firm, and radiant!
It is designed to visibly improve skin's overall elasticity and flexibility while promoting higher levels of moisture retention on the cellular level for a more youthful appearance.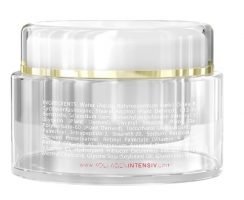 Formulation
Kollagen Intensiv® is an anti-aging breakthrough. It's a luxurious anti-wrinkle skin cream packed with age-fighting ingredients that turn back the clock and may very well take a decade off your appearance. The Kollagen Intensiv® formula includes:
Syn
®
-Coll
A patented peptide and the secret of Kollagen Intensiv®'s spectacular results, a clinical study found Syn®-Coll reduced the appearance of wrinkles by up to 354% after 84 days. Skin texture improved too, by up to 201%. Syn®-Coll stimulates collagen, and is a big reason why Kollagen Intensiv® works so well.
Shea Butter
Shea Butter is a natural fat. It's rich in bio-active triterpene esters and helps keep skin moisturized and smooth.
Cyclopentasiloxane
This is an emollient that makes skin look plump and resilient. It helps fill in wrinkles and fine lines.
Glycerine (From Plants)
Glycerine occurs naturally in human skin. It helps keep you moisturized, which is good for skin elasticity, and may reduce development of wrinkles.
Tocopherol
Tocopherol is an antioxidant that helps reduce skin from aging prematurely. It helps prevent free radical damage and appears to help prevent scars.
Palmitoyl Tetrapeptide-3
This helps prevent inflammation and glycation damage, which can lead to wrinkles and fine lines. It's especially useful after age 35, when you're more prone to skin damage.
Retinol and Retinyl Palmitate
These are antioxidants, meaning they help neutralize age-accelerating free radicals, and help regenerate skin cells. They're both well-known to boost collagen production.
Magnesium Ascorbyl Phosphate
This is a stabilized form of Vitamin C. It helps stimulate collagen production and has a lightening effect, which helps fade dark spots and hyperpigmentation.
Hydrolyzed Hibiscus Esculentus Extract and Acetyl Hexapeptide-3
These work synergistically to make catecholamine. That helps reduce the muscle contractions that can lead to wrinkles, and reduces the effects of stress on collagen and elastin.
Palmitoyl Oligopeptide
This is a cellular messenger that mimics the effects of collagen and helps repair skin.
Glycine Soja (Soybean) Oil
Glycine Soja Oil encourages the body to make lithitihin, sterolins and Vitamin E. In turn, this helps skin smoothness.
Gluconolactone (Corn-Derived Preservative)
This helps hydrate skin and may offer some protection against UV radiation. It also helps minimize the appearance of wrinkles.
Dipalmitoyl Hydroxyproline
This helps contract collagen fibers and appears to strengthen the dermal matrix. It may reduce scarring and stretch marks as well.
Cucumis Sativus (Cucumber Fruit Extract)
Ever heard the anti-aging trick of putting cucumber slices over your eyes to make them look younger? There's science to that – cucumber has natural acids that tone skin and keep it hydrated. It fights against inflammation too.
Camellia Sinensis (Green Tea) Leaf Extract
Another anti-aging secret, Green Tea Leaf packs a serious antioxidant punch and is believed to reduce collagen breakdown. It's well-known for tightening skin.
Avena Sativa (Oat) Kernel Extract
This is another antioxidant. It helps soothe skin and is an excellent moisturizer.
Ascorbyl Palmitate (Vitamin C Palmitate)
Believed to assist with collagen production, ascorbyl palmitate helps fight free radicals.
Outstanding product effect
Anti-Aging Wrinkle Cream With SYN®-COLL.
Clinically Proven To Reduce Wrinkles By Up To 354%
Boosts Your Natural Collagen Production.
​Skin Looks Thicker, Firmer.
Results In Just 84 Days, Guaranteed!
For more product information, Please watch this video

Read more: GenFX Best Human Growth Hormone For Sale